With VisualHub video converter gone, iSquint is an alternative for iPod video converting on Mac OS X.
Overview
Step 1: Install Conversion Software (VisualHub, iSquint, etc.)
Step 2: Resize & Convert video
Step 3: Sync iPod to iTunes
VisualHub & iSquint (Conversion Software)
VisualHub is the best & easiest program to convert videos and movies to iPod or iPhone, hands down. Here's the catch: VisualHub is now in abandonware limbo, as its parent company has closed up shop.
iSquint iPod video transfer program is a good VisualHub alternative that's free, also made by Techspansion (same author as VisualHub), just with less output formats and presets, thus requiring more user input to produce good results.
Download iSquint. Double click the iSquint1.5.2.dmg file to open it. Install iSquint by clicking and dragging it to your Applications folder. Ignore the Debreaker program.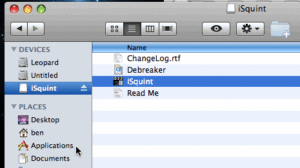 Start iSquint.
To convert video files on your Mac to play on your iPod, within iSquint, under Settings, select "Optimize for iPod",
Check the "Add to iTunes" checkbox to have iSquint automatically import your videos into iTunes. You'll still need to transfer or "sync" the videos to your iPod later.
Check the "H.264 Encoding" checkbox. This takes longer to process files, but the quality and size of the resulting video are both better. Smaller file size = More videos on your iPod or iPhone.
To convert video files like .avi, .mpg, .mov, .flv to iPod video format, drag and drop these files into the main central box below "Drag files below". You can also add files by clicking on the "+" button.
By default, video files will be converted to .mp4 files, and placed in the same directory as the original video files. Change this by clicking on the "Change" button at the bottom right.
Key to making good looking video files for your iPod in iSquint is using the Advanced settings panel. Click on the "Advanced" button. The following window will open: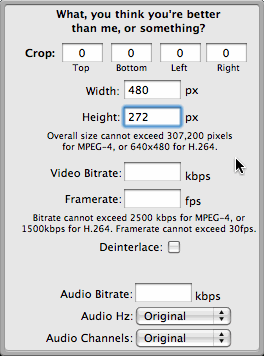 Video Size
Here you change the size of the converted video file to be used on your iPod, which depends on two things: The original video format/size (see Finding Original Video Format below) and which iPod you're playing it on.
iPod Touch / iPhone Users
The iPod and iPhone use a 480×320 pixel screen (when viewed on its side) which is 1.33:1 format, the same visual width-height format as regular television. Most movies and HDTV programming is produced in 1.78:1 format, also known as 16:9. This means you'll have to edit the size of most videos to be played on the iPod/iPhone.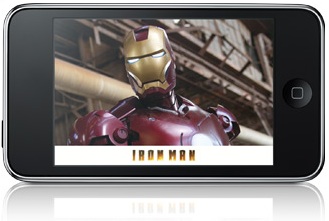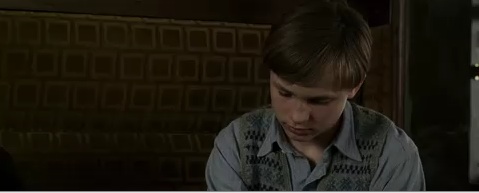 If your original video is in cinema widescreen format (2.35:1 or 2.35 wide x 1 tall) like this screenshot of Narnia, use a width and height setting of 480 x 192.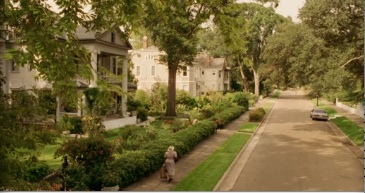 1.78:1 or 16:9 is the most common widescreen format for DVD's and HDTV programming. Use a width of 480 x Height 272 in iSquint.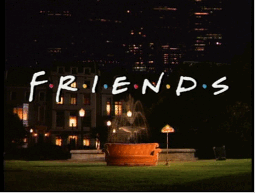 1.33:1 or 4:3 is the standard format for television shows
Use a width of 480 x Height 320 in iSquint.
iPod Classic or iPod Nano
Your iPod screen size or iPod video format is 320 x 240 pixels.
For 2.35:1 widescreen, use 320 width x 144 height.
For 1.78:1 (16:9) widescreen, use 320 width x 176 height.
For 1.33:1 (4:3) television format, use 320 x 240 height.
Finding Original Video Format
To find your original video file format or size, use QuickTime.
In QuickTime, load the video or film and press Cmd + I or go to the Menu => Window => Show Movie Inspector.
The Movie Inspector window that pops up will give the dimensions of the video in pixels.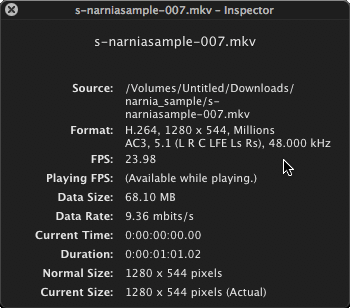 At the bottom we see Normal Size: 1280 x 544 pixels. To find the format or aspect ratio, divide the two size numbers: 1280 / 544 = 2.35. The closest format to 2.35 is 2.35:1, cinema widescreen.
Video Conversion
With your iPod video file format ready, click the Start button (bottom right hand corner) to begin the conversion to iPod video format (MP4).
Processing time depends on the size of the original video and the quality settings you've chosen for the iPod video.
A television show in 1.78:1 format of roughly 44 minutes, with a file size around 350MB, with iSquint using Standard Quality, will take about 15 minutes to process on a MacBook Pro Core2Duo 2.2Ghz. The output MP4 video file size will be around 90MB.
If you checked the "Add to iTunes" checkbox earlier, the MP4 video file will be automatically imported into iTunes.
Transfer Videos from iTunes to iPod
Connect your iPod to your Mac.
Start iTunes.
Click on your iPod on the left hand column.
On the right you'll see multiple tabs, one of which is Movies.  Click that.
The top half of the Movies tab is for rented films.  Ignore that.
On the bottom half you'll have a checkbox for Sync Movies. Check that to ungrey the rest of the options below.  Now you'll be able to pick and choose individual MP4 videos to transfer (Sync) to your iPod, or simply transfer all movies.  After making your choice, click Sync at the bottom right hand corner.
Note: Strangely, the first time I sync'd movies to my iPod Nano 5th Generation, iTunes asked me if I wanted to sync the movies to this iPod, which would erase all of the current songs, movies, files, etc.  Basically, iTunes was asking to erase my iPod completely and start synchronizing from scratch.  Not sure why this happened, but I simply created a playlist with all of my current songs and let iTunes wipe the iPod.  I then just resync'd my current songs playlist and I had both songs and videos on my iPod.
Sample Screenshots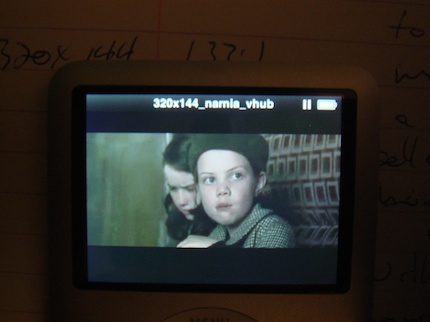 2.35:1 Cinema Widescreen on iPod Nano 5G at 320×144 resolution by Visualhub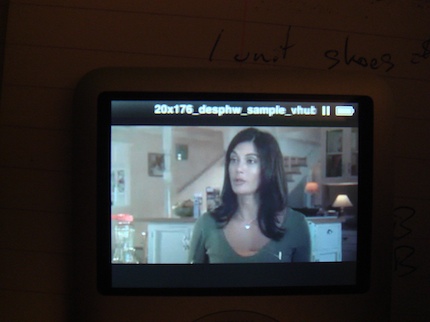 1.78:1 Widescreen (16:9 DVD) format on iPod Nano 5G at 320×176 resolution by VisualHub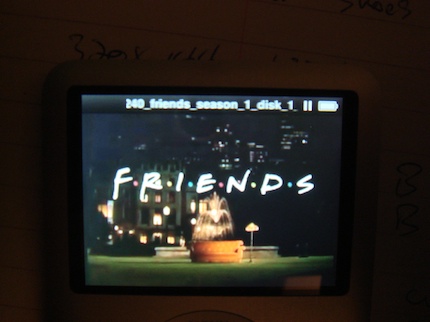 1.33:1 TV format on iPod Nano 5G at 320×240 resolution by iSquint
Problems / Issues with iSquint
.mkv format (Matroska) high definition video is "choppy" or skips multiple frames when converted by iSquint. VisualHub does not have this issue with transfering .mkv files.
iSquint iPod conversion quality is slightly worse than that of VisualHub.  In most cases it would be difficult to tell the difference, especially when viewing videos on iPod screens.  I've noticed that the crispness of VisualHub conversions is not matched by iSquint. If you start with a higher quality movie/video, there is virtually no noticeable difference in the output at iPod Nano/Touch video sizes.